POLARIS BIOS EDITOR 1.7.6 (AMD RX): Download and Configure PBE for Windows
---
PolarisBiosEditor – is a program for modifying timings and other useful features of graphics cards running on Polaris architecture. PolarisBiosEditor Pro is compatible with almost 99% of video cards with this architecture. PBE will fit RX4x0 and RX5x0 graphics cards. Works with videocards with 2-8 GB and 16 GB memory. The program supports the following memory: Elpida, micron, samsung, hynix. Works with video cards: AMD RX 460/470/480/550/560/570/580/590.
Polaris Bios Editor PRO — is a tool with simple settings for tweaking AMD GPUs bios. New version of PBE 3 Pro with improved performance timings, automatic overclocking and reduced voltage (power saving), ETH, XMR (CN), and special timings to increase mining speed for all miners. PBE 3 PRO recognizes and applies custom performance timings for more memory types (compared to PBE 1.6.7), like H5GC8H24MJ and H5GQ4H24AJ, timings for this type are also available for ETH or XMR mining, you just choose the one you need.
A new WIKI with frequently asked PBE questions and tips on mining and bios modification:
If you have trouble downloading, download "Chrome-download-pass-1234.rar", password 1234. Some browsers and antiviruses block the download named PBE (PolarisBiosEditor). If you still have problems, you need to build PBE from source code.
What else can Polaris Bios Editor Pro do?
Timings are optimized for ETH and XMR or Universal, you can choose which one you want (only available for some memory types);
Timings for 4GB or 8GB cards automatically choose the best settings time for map size (only available for some memory types);
Detect more memory types and apply suitable timings (compared to PBE 1.6.7 and 1.7.0), new added support for H5GQ4H24AJ;
Auto buck, overclock, overclock (power saving option);
Gives the biggest hash rate gain over stock as 100% performance still requires manual adjustment of memory clock and core voltages , the editor cannot predict the quality of the map, so it is not possible to automatically use high values;
Supports Windows and Linux (x32/x64 bit);
Supports almost all RX Polaris and Baffin (RX) cards 460/470/480/560/570/580), (RX550 only a few of them, contact me before purchasing);
In the next releases, a more intuitive timer patcher and low voltage;
Economic power saving option:

New power saving option ! Automatically voltage down memory and core.

Auto control OC:

Automatic memory overclocking for better hash rate;

< /li>
How to use PBE
Download archive from Polaris Bios Editor
Unzip the archive to a convenient location
Launch PolarisBiosEditor .exe
Windows 10 is recommended (Windows 7 and 8 will also work, activation may not work on other operating systems)
Можете ли вы модифицировать RX5700, RX6700, RX6800, Vega и т.д.?
How to save the bios from a GPU card
How to save the bios from a GPU card – click to expand
Download the latest version of ATIWinflash and run it as an administrator — https://www.techpowerup.com/download/ati-atiflash/
Choose your card and save bios with (*.rom)
*Always keep the standard bios file!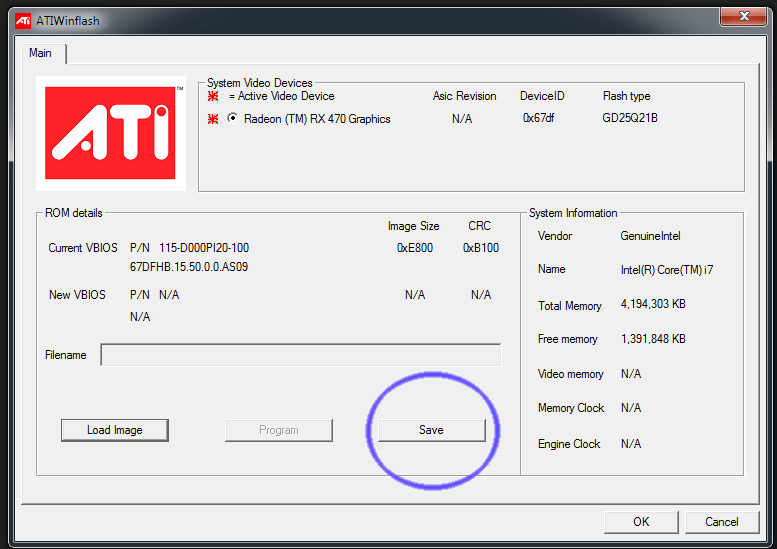 How to change the bios with Polaris Bios Editor
How to modify the bios with Polaris Bios Editor
Download the latest PBE or build your own — https://github.com/IndeedMiners/PolarisBiosEditor/releases .
Run Polarisbioseditor.exe
Click "OPEN BIOS " and find your saved bios from ATIFLASH.
Once you load the bios, you can simply click the "ONE CLICK TIMING PATCH" button. It will apply the appropriate timings for your video card or ask if you want this timing or not. If it asks to apply the timing or not, I suggest you click "Yes" and try to mine with it. If the performance of the card is not as expected, load the stock bios again and instead of clicking "Yes", when it asks click no and it will apply the second time.
After that you can save the modified bios file. Never overwrite the stock bios file! Always keep the stock bios file!
That's pretty much all you need to do in PBE. You can change the frequency and voltage, but you can do it's in Afterburner or other utilities.
If you want better and faster timings with auto overclocking and underwinding features, you need the PBE 3 PRO.
I do not recommend changing the voltages from dynamic values (65286) to static values (950)
How to flash a modified bios to the video card
How to flash a modified bios to your GPU – click to expand
Run the latest version of ATIWinflash as administrator.
Select your card
Download BIOS
Click the program. Your computer will freeze for a few seconds, so wait patiently!
It is recommended to erase the driver DDU (with reboot), you can twice – https://www.guru3d.com/files-details/display-driver -uninstaller-download.html
After reboot, install the latest AMD drivers or the drivers recommended by the miner you are using. Don't install those old (2017) Blockchain drivers!
You will probably need to apply the ATI Pixel Patch, first rename the file to "atikmdag-patcher-bios.exe" to fix only the signature – https://www.monitortests.com/forum/Thread-AMD-ATI-Pixel- Clock- Patcher
Switch cards for workload calculation — https://www.amd.com/en/support/kb/faq/dh-024
Reboot
Make sure you don't have OC enabled, run all cards with stock values ​​and run the miner to see if it works well.
After With this you can start tweaking core and memory frequencies and voltages.
My card is unstable when mining
My card is unstable when mining – click to expand
Your memory clocks may be too high.
If you are using Windows, just download HWINFO and check if your card has memory errors – https://www.hwinfo.com/download/

v1.7.6
Fixed Samsung 2.
Fixed bug H5GC8H24AJ where no supported memory is found.
A few minor changes in the code
v1.7.5
Added UberMix 3.3
A few minor changes in the code
v1.7.4
Fixed bug: not found supported memory (K4G80325FC)
Old version is downloaded in properties
v1.7.3
Added support for Samsung K4G80325FC memory
Added new AMD Radeon RX 580 2048SP - 6FDF
v1.7.2
Fixed application time for Hynix memory.
Added support for RX590.
Added support for New Hynix H5GC8H24AJ memory.
Added timing for New Hynix H5GC8H24AJ memory.
v1.7.1
Updated Elpida timings
v1.7.0
Added new timings for Hynix.
Added clock stretch value.
Added possibility to choose timings on hynix between Hynix universal timing and good hynix timing.
Universal hynix timing works on: H5GC8H24MJ, H5GQ8H24MJ, H5GQ4H24AJ.
v1.6.9
Fixed user interface (redesigned)
Fixed and updated all timings
Added new strap for Micron and Hynix.
Added ability to select timings on Samsung between uber-mix 3.1 and 3.2, and on Micron between Good Micron time and S Micron time.
Added icon.
Added option max. Mem Frequency (after pressing the synchronization patch button with one click max memory automatically changes to 2300 MHz)
v1.6.8
Fixed Samsung Uber-Mix strap
Added support for Hynix H5GQ4H24AJ.
Fixed fan-mode option
v1.6.7
created solution and project files for ide
0x67ef device ID support
better timings for micron memory
firmware signature / ascii firmware signing
editing the bios message (experimentally)
online checking for new versions
online display of developer notification
v1.6.6
0x699F rx550 device ID support
v1.6.5
support for up to 48 entries in timings table (more than 2 memory manufacturers)
v1.6.4
Fixed elpida timings
K4G41325FS memory support
v1.6.3
timings modification now starts with 15:00 instead of 1750
67FF device ID is now supported too
v1.6.2
experimental: ubermix timings now also apply to SAMSUNG 4g VRAM (K4G41325FC, K4G41325FE)
timing change now starts from 1750 instead of 2000
v1.6.1
hynix H5GC8H24MJ memory now recognized (same timings as H5GQ8H24MJ)
v1.6
window size now changes correctly
memory vendor detection
One click synchronization patch (samsung, hynix, elpida, micron)
v1.5
added FanControlMode setting
implemented some code relating to the sync editor (not used yet)
v1.4.1
WPF components were replaced by Windows Forms components for mono-compatibility archiving


---
Be the first to know all the news, read more about cryptocurrencies and mining at CRYPTO-MINING.BLOG.

You like reading articles like this and you want to support the author, then you can subscribe to our Telegram channel and recommend us to your friends, it will really help support our project! Telegram: @cryptomineg (https://t.me/cryptomineg)
Because the value of Bitcoin is falling, the mining equipment has begun to operate at a loss. Electricity costs are rising and profits are falling. As Bitdeer points out, some equipment, like Antminer, that was produced in 2019 has stopped making a profit. So far, devices such as Antminer S19 and Whatsminer M30S+ and Antminer S19j are profitable.

---

Michael Saylor: "Bitcoin will never hit zero" . In an interview with Squawk Box on CNBC, prominent Bitcoin proponent Michael Saylor stated that BTC skeptics and opponents have failed. He mentioned a bill to regulate cryptocurrencies in the US, which Senators Kirsten Gillibrand and Cynthia Lummis have already completed work on.

---

U.S. firm Crusoe Energue, which specializes in using surplus natural gas for Bitcoin BTC mining, will soon begin deploying generators and equipment to collect the flared gas in Muscat, the capital of Oman. Crusoe CEO Chase Lochmiller commented that the company considers its presence in the Middle East and North Africa region important because that location accounts for 38% of global excess natural gas flaring from oil wells.

---