GMiner v2.19 [AMD/NVIDIA] Download and Configure for Windows & Linux.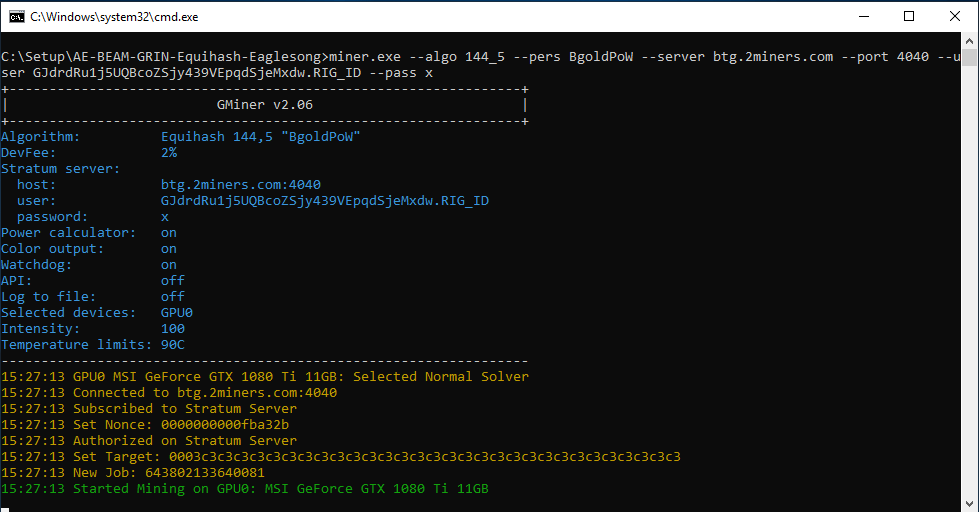 Gminer is a well-known miner that is in demand in the community. Its main advantage is the support of many algorithms and, accordingly, cryptocurrencies. We are talking about Aeternity, Ethereum, Beam, Grin, ZelCash, BitcoinZ and even Nervos CKB, whose network hashrate recently flew up. We tell you how to properly configure the miner and start working with it. Gminer is a miner with support for many mining algorithms. The program is suitable for video cards from Nvidia and AMD, however, preference is still given first.
Changes in v2.19:
cuckarooz29 performance improvements
removed grin29 automatic fork switching
DevFee
Gminer developers charge a percentage for using their product, and there is nothing strange about it. The commissions for the algorithms are different. For Ethash, which runs Ethereum and Ethereum Classic, the commission is 0.65 percent. For Cuckaroom29, it is 3 percent, for Cortex – 5 percent, and so on.
Algorithm support
Ethash (Nvidia only)
ProgPoW (Nvidia only)
KAWPOW (Ravencoin and Nvidia only)
Ethash + Eaglesong (Nvidia only)
Ethash + Blake2s (Nvidia only)
Eaglesong (Nvidia and AMD)
Blake2b + Sha3 (Nvidia only)
Cuckarood29 / Cuckaroom29 (Grin and Nvidia only)
Cuckatoo31 (Grin and Nvidia only)
Cuckatoo32 (Grin and Nvidia only)
Cuckoo29 (Aeternity for Nvidia and AMD)
CryptoNightBBC (Nvidia only)
BFC (Nvidia and AMD)
Cortex (Nvidia only)
Cuckaroo29s (Nvidia and AMD)
Cuckarood29v (MoneroV for Nvidia)
Blake2s (Nvidia and AMD)
Eaglesong (Nervos CKB for Nvidia and AMD)
Equihash 96.5 (Nvidia only)
Equihash + Scrypt (for Nvidia)
Equihash 125.4 (ZelCash and Nvidia only)
Equihash 144.5 (Bitcoin Gold, BitcoinZ and ZelCash for Nvidia and AMD)
Beam Hash (BEAM for Nvidia and AMD)
Equihash 192.7 (Nvidia and AMD)
Equihash 210,9 (Nvidia).
Hardware Requirements
Cuckaroo29 — 3.8 GB;
Cuckatoo31 — 7.68 GB;
Cuckoo29 — 3.8 GB;
Equihash 96.5 — 0.75 GB;
Equihash 144.5 — 1.75 GB;
Beam Hash – 2.9 GB;
Equihash 192.7 — 2.75 GB;
Equihash 210.9 — 1 GB.
How to set up Gminer for mining
Let's show an example of setting up Gminer for mining Bitcoin Gold on a 2Miners pool. The text below is the correct content of the file.
miner.exe --algo 144_5 --pers BgoldPoW --server btg.2miners.com --port 4040 --user YOUR_ADDRESS.RIG_ID --pass x
pause
Here you need to change YOUR_ADDRESS to your wallet address to receive coins.

An example address is GJjz2Du9BoJQ3CPcoyVTHUJZSj62i1693U.

You also need to change RIG_ID , which is the desired farm name.

Here we use no more than 32 Latin characters, numbers, as well as symbols "-" and "_". For example rig-1.
Examples and finished body shirts:
miner.exe --algo grin29 --server grin29.f2pool.com --port 13654 --user rgz --pass x
For grin and sparkpool pool
miner.exe --algo 150_5 --server beam.sparkpool.com --port 2222 --ssl 1 --user 2d1f865b393afa3ead1e0dd0c0307c0cbcdb8412671c86fbd0b21cfe5328b608ca5.rig0
miner.exe --algo 150_5 --server beam.f2pool.com --port 5000 –ssl 1 --user 2d1f865b393afa3ead1e0dd0c0307c0cbcdb8412671c86fbd0b21cfe5328b608ca5.rgz --ssl 1
Download ready-made .bat files right now:
Video instructions for setting up GMiner
---
Related Articles: