CPUMINER-OPT v3.8.4: Download Fast CPU Miner for Windows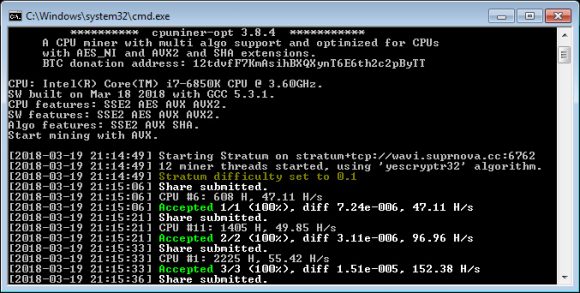 ---
It has been quite a while since the last time we mined cryptocurrency, in which there is only a CPU miner, not a GPU or ASIC, and which uses the new encryption algorithm, and some time ago we also used cpuminer-opt. So why not return to it and focus on your processor for mining using the latest version of cpuminer-opt 3.8.4 and my WAVI (Bitcointalk) coins, which use the new yescryptr32 algorithm.
GitHub:

https://github.com/JayDDee/cpuminer-opt/releases
If you are interested in what kind of performance you can expect from mining this algorithm on processors, here is a guide for you.
Intel Core i7 6850K (6 cores with a frequency of 3.6 GHz + HT) operates at a speed of 635 H / s in the yescryptr32 algorithm without overclocking the processor.
A processor similar to the commonly used Intel Celeron G1840 (dual-core with a frequency of 2.8 GHz) is capable of overclocking to 110 H / s in terms of hashrate when mining yescryptr32.
If you try to mine WAVI coins on another processor, do not hesitate to share the results of your work in the comments below, and successful mining!
Hashrate (in overclocking):
Intel Core I3
yescrypt – 2,2-2,4
yespower – 0,42
Requirements
Older processors are supported by cpuminer-multi TPruvot, but with reduced performance.
ARM and Aarch64 processors are not supported.
Mac, OS, and Android are not supported.
X86_64 architecture processor with minimal SSE2 support. This includes Intel Core2 and newer and AMD equivalents. Further optimization is available for some algorithms for processors with AES, AVX, AVX2, SHA, AVX512 and VAES.
64-bit Linux or Windows. It is known that distributions based on Ubuntu and Fedora, including Mint and Centos, work and have all the dependencies in their repositories. Others may work, but may require more effort. Older versions, such as Centos 6, do not work due to missing features. Windows 64-bit is supported with mingw_w64 and msys or pre-compiled binaries.
A stratification pool supporting strata + tcp: // or strata + ssl: // protocols or RPC getwork using http: // or https: //. GBT is YMMV.
Supports Algorithms:
Allium
anime
argon2
Argon2d250
argon2d500
Argon2d4096
axiom
blake
Blake2b
Blake2s
blakecoin
bmw
bmw512
C11
decred
deep
dmd-gr
Groestl
Hex
HMQ1725
hodl
jha
Keccak
Keccakc
LBRY
Luffa
lyra2h
lyra2re
Lyra2REv2
Lyra2REv3
Lyra2Z
lyra2z330
m7m
myr-gr
NeoScrypt
Nist5
pentablake
PHI1612
PHI2
phi2-lux
pluck
Polytimos
power2b
Quark
qubit
Scrypt
scrypt:N
sha256d
sha256q
Sha256t
sha3d
shavite3
Skein
Skein2
skunk
Sonoa
Timetravel
TimeTravel10
Tribus
Vanilla
Veltor
Whirlpool
whirlpoolx
X11
X11evo
X11Gost
X12
X13
x13bcd
x13sm3
X14
X15
X16R
x16rv2
X16RT
x16rt-veil
X16S
X17
x21s
X22i
X25X
Xevan
Yescrypt
yescryptr8
yescryptr8g
yescryptr16
yescryptr32
yespower
yespowerr16
yespower-b2b
Zr5
Configure CPUMINER-OPT
cpuminer.exe – Specify the name of the program to run. For cpuminer-opt it will be different – cpuminer-avx2.exe
-o stratum+tcp://eu.vrm.mining-pool.ovh – Specify the address of the pool
:3032 – We put a colon and indicate the port from the pool
Weblogin – After the -u switch, we indicate either the login on the pool, if registration is needed there, or the address of your wallet
WorkerName – Specify the name of the worker (farm name)
-p WorkerPassword – We indicate the password. We put X if there is no password
Recommended New Articles:
EthereumPoW is the original Ethereum blockchain based on the Proof of Work mechanism. Ethereum POW (ETHW) is a new coin that is split after ETH transition to Proof-of-Stake.

Multiple transfers of the transition of Ethereum to a new algorithm, which gave reason to believe that the event would never take place, still did not prevent The Merge from taking place. As a result, the possibility of mining ether disappeared. But its fork appeared, EthereumPoW, to which the community is currently very skeptical and even suspicious. Let's figure out whether to trust such innovations!

The Conflux project is a blockchain that connects Asian and Western economic communities. Built to secure the flow of data and assets across borders through protocols and applications. Today we will analyze whether this project is worth your attention and money.