Overview of Bitmain Antminer X3 CryptoNight ASIC Miner
Antminer X3 CryptoNight ASIC Miner
We got our hands on the Bitmain Antminer X3 CryptoNight ASIC miner and decided to quickly test it. Antminer X3 is capable of delivering 220 kHz at 550 watts of power consumption in accordance with the specifications and the type of device (as the developer describes it to us). But, unfortunately, in practice it is far from always capable of producing such indicators. This is partly due to the fact that we came across some strange results, trying to get the ASIC miner to work properly in some popular pools and services, such as NiceHash, for example.
When you point Antminer X3 to CryptoNight NiceHash (not CryptonightV7), you get a device to connect to and report support for extraction, but all you get is rejections and 0 as a hashrate. Thus, it is obvious that Antminer X3 does not currently work properly on NiceHash, even after flashing the latest available firmware, which seemed a day newer than on the device we tested.
Do not go for NiceHash, which seems to be the best option at the moment, given that there are not many CryptoNight coins left that offer good profit, since most serious coins have already switched to the new ASIC-proof (for now, at least) CryptoNight V7 algorithm .
Test ASIC Miner Antminer X3 CryptoNight в Nanopool's Electroneum (ETN)
We turn to a quick testing of the mining pool Nanopool Electroneum (ETN), as more profitable than NiceHash, in terms of profitability, but it is not as we expected. Here the miner connects and apparently works on the pool side, but the pool only reports hash speed 20 KHS, not about complete 220 KHS, which he must issue. Locally, the miner seems to be working fine, and the locally reported hash rate is also good with an average of just over 235 KHS. People have reported success in some miner ETN pools X3 ASIC, but even if you manage to get the device to work correctly on Electroneum, you won't have much time before ETH also branches out and becomes unmanageable with this miner.
ASIC Miner Antminer X3 CryptoNight test in AntPool and Monero Classic (XMC)
The next pool that we tested is AntPool and Monero Classic (XMC). Where Antminer X3 worked great out of the box. After all, this is a mining pool. Bitmain. A mining pool where Bitmain is most likely tested by all miners before being sent to customers. Therefore, it is not surprising that the miner works so well in it.
The problem, however, is that you can only mine there Monero Classic (XMC), and it is sold on only one exchange – crypto.com,in accordance with CoinMarketCap (at the time of writing).–But at least it works, and you can make good money in this pool.
Profitability of Antminer X3 (ASIC Miner) on CryptoNight
Here is the situation in terms of profitability for the ASIC Antminer X3 miner on CryptoNight in accordance with WhatToMine.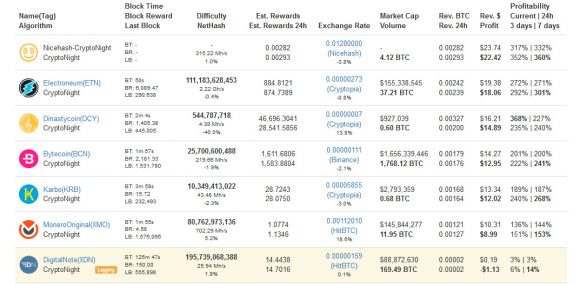 Another, possibly interesting coin for mining with AntMiner X3 is ByteCoin (BCN). The coin, which recently showed a slight increase in interest in it. This is probably due to the availability of miners ASIC X3 in the hands of miners.
Conclusion
We definitely don't like the fact that Antminer X3 CryptoNight not working properly on services like NiceHash or large pools like Nanopool. Bitmain should have had enough time and opportunities to make sure that possible problems have been resolved … And they can always issue an update to fix such problems while the devices get to their customers, and this is about 2 weeks. I can't say that we are happy with the short time that we had with the X3 miner to try it, and we definitely will not recommend it at the moment.
Recommended Related Articles: