BTC Smart Agent. Download miner finder tool for Windows
---
BTC Smart Agent — is a layered agent designed for large-scale mining farms. BTC Smart Agent optimizes the stratum protocol, significantly reduces the amount of data, is deployed in the farm, significantly improves the efficiency of communication between the farm and the mining pool, saves bandwidth, stabilizes the connection and saves the data monitor.
Key features: BTC Smart Agent provides mining services using integrated circuits and GPUs. The service provides standard software as well as a batch process to efficiently set up miners on Windows and Linux. There is also a mining profit calculator that will help you calculate your profit combined with price, difficulty, hash rate, and power bill.
How to install BTC Smart Agent
Download the archive from the website and unzip it.
Run the installation file .exe
After reading the terms of the agreement, you should check the appropriate consent box and then start installing the program.
The program will start downloading to your computer.
Interface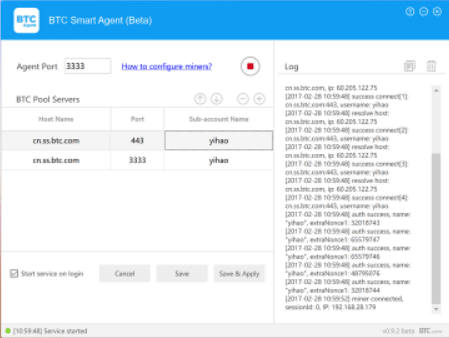 The application has a Russian interface. If you want, you can view the source code of the wallet to make sure it is safe.
The pool is supported by a professional team of blockchain and cryptocurrency developers. A special reward method allows miners to earn 10-20% more profit than in other pools. The withdrawal fee is also free and the mining tax is 1.5%. The presence of apps, online calculators, blockchain reviewers and smart agents directly speaks to the quality of service.
---
If you like to read such articles and want to support the author, then you can subscribe to our telegram channel and recommend us to your friends, this will help a lot to support our project! Telegram: CRYPTO WIKIES | Bitcoin & Altcoins Mining

Be the first to know all the news, read more about cryptocurrencies and mining at CRYPTO-MINING.BLOG.