Reddcoin Core Wallet Guide
Reddcoin Core – is an official wallet supported by the project for storing and placing RDDs. The client can be easily downloaded and installed on most operating systems. The program is easy to use, and as long as you keep your RDD balance in the wallet, you are entitled to receive 5% interest on the number of coins that are bet. It also helps protect the blockchain and allows you to interact with other available features.
Download Reddcoin Core Wallet
Head over to the official Reddcoin website to get started.
Install Reddcoin Core :
Select your computer's operating system and start downloading Reddcoin Core wallet. Install the program on your computer and complete the setup.
Open and synchronize Reddcoin Core
After installing the program on your computer, open the wallet or run the program. The wallet will appear on the screen and start synchronizing and connecting to the Reddcoin blockchain.
At the bottom, the amount of time remaining is displayed and you can check the connection to active Reddcoin network connections. The wallet also displays information about the number of RDDs pledged.
Find a wallet address to receive Reddcoin
In your wallet, click the "Request" button, this is how you will find and manage your Reddcoin wallet addresses. All fields described above are optional, when you are ready to proceed, click "Request Payment" highlighted below.
After that, information about the "Requested Payment" will appear, displaying your wallet address in text format and as a QR code. You can save it as an image by clicking the "Save Image" button at the bottom.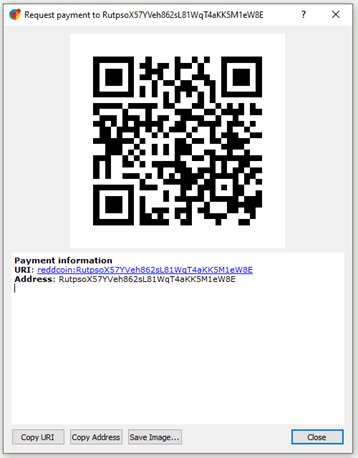 Your Reddcoin (RDD) wallet address should look something like this: RutpsoX57YVeh862sL81WqT4aKK5M1eW8E
It is highly recommended that you use the "Copy Address" function to make sure that the displayed address is copied completely. Now that you have this information, you can send coins to your new RDD wallet.
The number of generated addresses is unlimited. Sending RDD to any previous address will still go to the wallet you created.
Buying and sending RDD to your wallet
Select Reddcoin (RDD) from the "Select Your Coin" drop-down menu.
Select payment method: bank transfer (FPS or SEPA) or credit/debit card.
Enter the value of the order, any fees or number of coins will be displayed transparently.
Paste your Reddcoin (RDD) wallet address in the "Your wallet address" field.
Take a moment to double check and make sure all the information is correct, then proceed to "Next Step".
Continue with the payment steps and then wait for the RDDs to arrive in your wallet. You will receive an email notification when the order has been completed and RDDs have been transferred to your wallet. Now you can also start betting on RDDs and receive 5% of your bets.
It is highly recommended that you back up your wallet to keep it accessible in case of an emergency.
Reddcoin Core wallet review
Advantages:
Easy to download and set up, easy to manage and understand wallets.
Regular wager rewards are given for keeping coins in your wallet.
The wallet has many additional features available for advanced users.
Has Tip It and other built-in features ready for further development and additions.
Disadvantages:
Works only on computers and is not compatible with cell phones.
The design is somewhat outdated, but a new modern interface is being developed.
Requires synchronization with the network before you can use the wallet.
---
If you like to read such articles and want to support the author, then you can subscribe to our telegram channel and recommend us to your friends, this will help a lot to support our project! Telegram: CRYPTO WIKIES | Bitcoin & Altcoins Mining

Be the first to know all the news, read more about cryptocurrencies and mining at CRYPTO-MINING.BLOG.