How to Mine DIGIBYTE: mining guide and overview of DGB cryptocurrency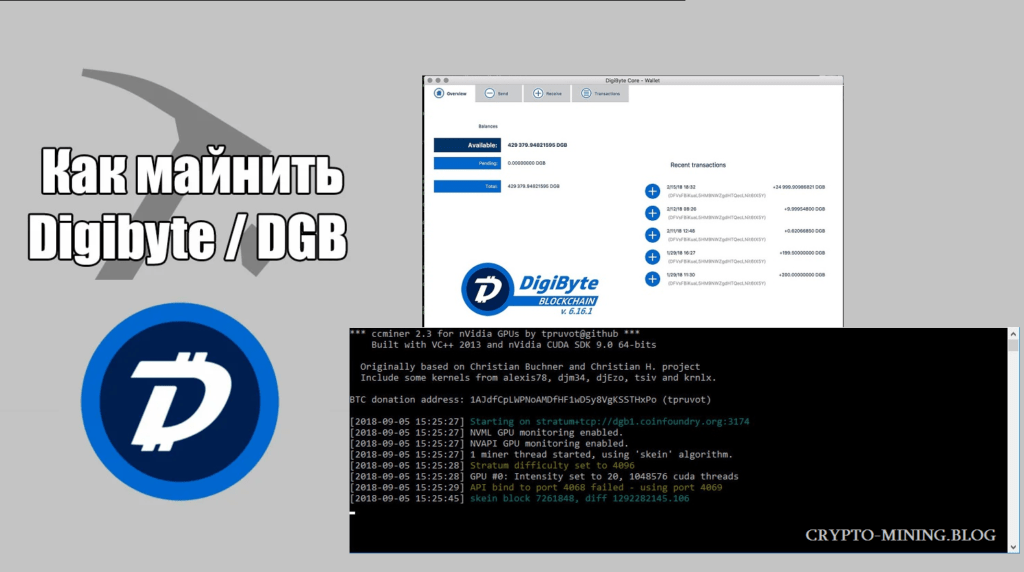 DigiByte (DGB) is a fast-growing global blockchain for security and decentralized payments used in 82 countries. DigiByte has many features, including fast transactions with minimal payments. Sending and receiving funds to any DigiByte address in the world happens within seconds without registration or hidden fees. The project also allows you to protect your data, documents and contracts. We will tell you how to mine Digibyte on Windows 10 using a GPU on an Nvidia or AMD video card
Digibyte. Main characteristics, features of the coin
Cryptotoken DigiByte (DGB) will turn 7 years old in 2021. Therefore, this cryptocurrency can hardly be called a newcomer to the digital asset market. It is actively used in 82 countries. The developers have tried and made it safe, convenient and profitable. Let's try to talk briefly about its economic and technical features because it has advantages even in comparison with the already legendary bitcoin.
Low volatility. The dgb token has low volatility compared to other crypto-coins, such as bitcoin, ethereum, etc. The stability of digibyte exchange rates was achieved by linking assets not to events in the digital space that are incomprehensible to most users, but thanks to a strong linkage of the value of the coin to the rate of fiduciary currencies (ordinary money: dollars, rubles, pounds, yen, etc.). At the moment, more than 20 billion coins have been issued: high emission also protects the currency from sharp and significant fluctuations in the exchange rate.
The creators of the blockchain project have deliberately stabilized the altcoin exchange rate; it is not rising, but it is not falling either. Its main goal is not to speculate on sharp jumps in value, but secure, fast transactions within the network.
Capacity and security. Several hundred thousand servers in different parts of the world are responsible for the performance and protection of the cryptonet. All transactions take place within this network, and a record of them is stored in a specially protected electronic registry. This approach has proved to be effective, as it guarantees the execution of all operations carried out within the platform and the impossibility of stealing information about transactions, its correction or destruction by third parties.
Mining dgb token is also safe. The developers have implemented many algorithms in the crypto network that protect the user from external threats, hacker attacks, not only in the process of mining digital coins, but also during their storage, transfer, exchange for other digital assets.
Speed of transactions.Initially, digibyte provided the speed of transferring data or digital assets of 280 transactions per minute. At the beginning of the year (2021), the digital platform already easily copes with two thousand operations in 60 seconds, and this figure is gradually increasing with the growing popularity of the token among miners, investors and users. One fact for the correct assessment of the speed of digibytes: it exceeds that of Bitcoin by 40 times!
Many ways to mine digibyte coins: buying, mining (video cards, ASICs). This increases the speed of finding blocks, i.e. getting more profit in less time compared to more top coins, provided that the same computing power is used for mining. The absence or a very small percentage of the commission for users of the blockchain network and miners.
Create a DGB wallet in DigiByte Core
DigiByte Core Wallet is a basic wallet used for Windows, Linux and Mac OSX. Anyone can launch the DigiByte Core Wallet and start sending/receiving DigiByte in seconds! This guide will help you set up your wallet and find your DigiByte address so you can start receiving DigiByte.
Step 1) Go to the DigiByte website and download the wallet.
Visit www. digibyte.org and click "Select Wallet".
Choose a wallet for your operating system. If you are a Windows user and not sure, start with "Windows 32-Bit".
Step 2) Install the wallet.
Perform the setting by accepting the default values.
Step 3) Open DigiByte Core Wallet
it will tell you that synchronization will take some time, this can be hidden.
If it tells you it will take 10 years, DigiByte Core Wallet 6.14.2 has a problem. Try leaving the DigiByte Core Wallet open on your computer overnight and it should finish downloading the blockchain (approximately 4 GB).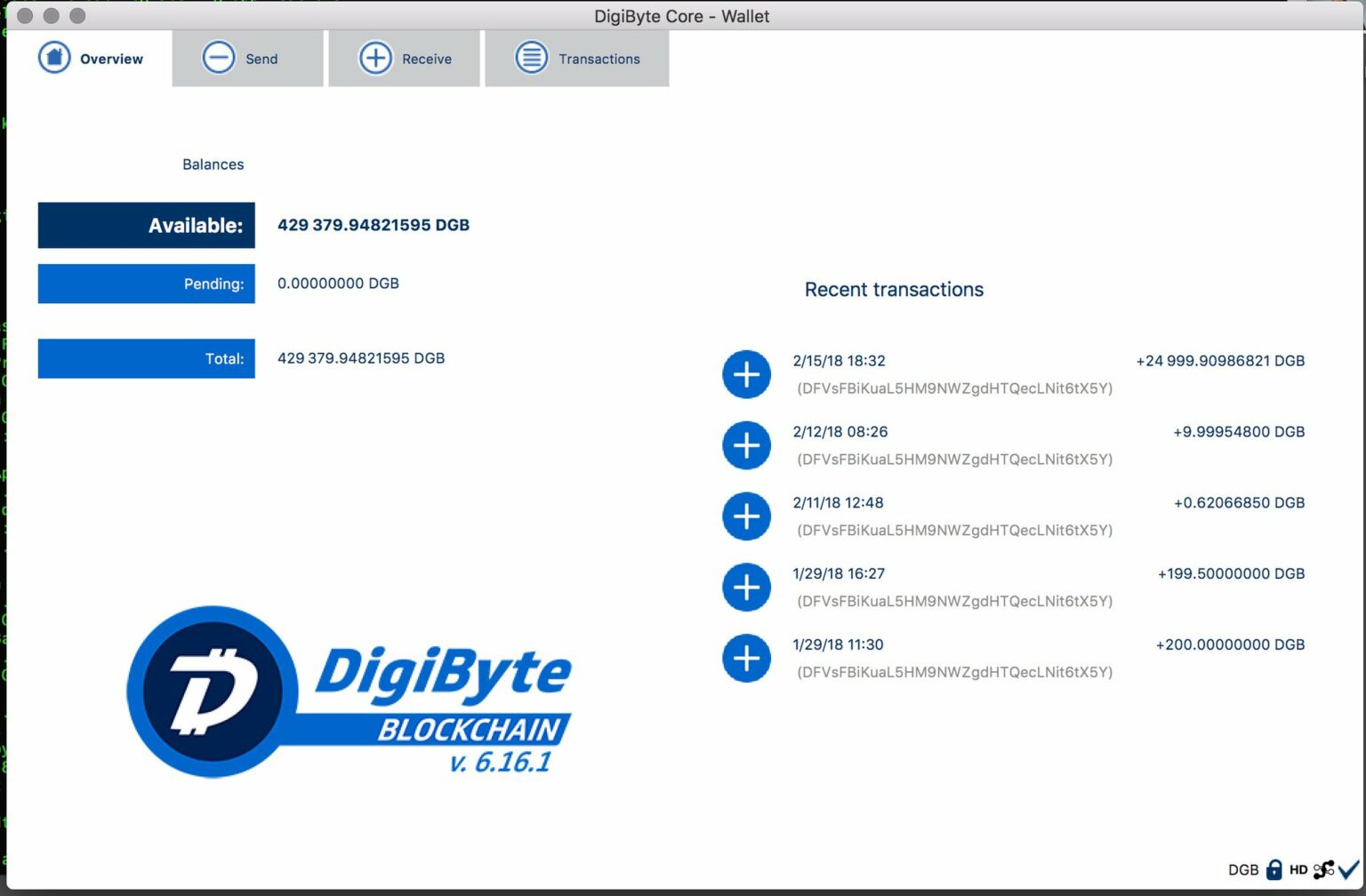 Step 4) Find your DigiByte pickup address
it is also known as your "Open Key" or "Open Address. This is what you will hand out to people to get DigiByte.
Click File → Receive Addresses. Right-click where it says "(unlabeled)" and select "Edit. Give your wallet a label, such as "Primary Wallet Address," and click "OK.
Click on your "Primary Wallet Address" and select "Copy" from the bottom.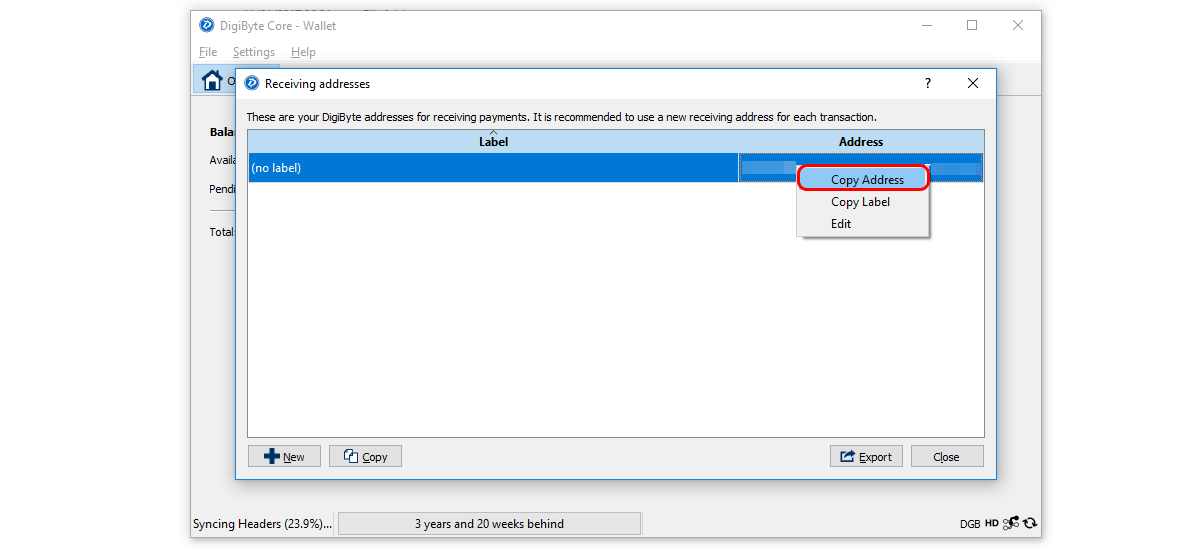 Congratulations! Now you are ready to take your DigiByte wallet address and give it to someone to get your first DigiByte. However, before we move on, we are going to back it up.
Step 5) Back up your wallet in a safe place
go to File -> Wallet Backup
save it to your desktop
now you want to email it to yourself, save it in a folder, save it to a usb stick, and take it somewhere. otherwise safe. If you lose this "Wallet.dat" file, your DigiByte will never be recovered.
Let's say your computer is lost, stolen or crashed one day, you need to save it somewhere remotely so you can restore it later in the future.
Additional Notes:
The tag you gave your DigiByte address is not public, it is only on your computer for reference. No one will ever know you've tagged your address.
The DigiByte Core Wallet will only give you your public address from here, which is completely safe.
If you ever asked to provide the private key, refuse ! Since this will allow anyone with your private key (or private address) to dump all of your DigiBytes.
The only way to find your private key is through the debug menu, so stick to that recipient address and you'll be fine
Select DigiByte DGB Mining Pool
The first step is to join a mining pool. There are several pools that work without problems. Two more or less verified Digibyte mining pools: https://dgb.miningfield.com/andhttps://dgb-groestl.theblocksfactory.com/.
Pools on Scrypt:
http://digihash.co/
https://dgb-scrypt.theblocksfactory.com/
http://p2pool.e-pool.net:8922/static/
SHA256:
http://digihash.co/
https://dgb-sha.theblocksfactory.com/
http://ispace.co.uk/coindetails/?coin=dgb
Qubit:
http://digihash.co/
https://dgb-qubit.theblocksfactory.com/
https://dgbq.suprnova.cc/
Skein:
http://digihash.co/https://dgb-skein.theblocksfactory.com/
https://www.miners-pool.eu/#!/pools/digibyte%20-%20skein
Groestl:
http://digihash.co/
https://dgb-groestl.theblocksfactory.com/
https://dgbg.suprnova.cc/
It is recommended that you get a Digibyte digital wallet before registering, because the pool will request a wallet address. If you don't have a preferred option, download a wallet for DGB from the official digibyte.io website. You can also enter an exchange wallet if you are going to transfer coins there and exchange them immediately for something.
For mining, you need an optimized miner with the Myriad-Groestl algorithm, which is suitable for DGB:
для AMD – http://theblocksfactory.com/sgminer-5-0-1-windows-gr.zip
для Nvidia – http://theblocksfactory.com/ccminer-1.2-myr-gr.zip
Create a DGB mining worker / Worker
The example will use the Miningfield DGB mining pool. When you register and log into your account, you will be taken to the menu. Go to the "My Account" tab and click on the "My Workers" line to create it. A field labeled "Add New Worker" will appear on the screen. Enter the username and password in the text fields and click the appropriate button.
DigiByte mining software
CCMiner лучше всего подходит для карт Nvidia, а Claymore для AMD. Скачайте zip с сайта и распакуйте его в папку на ПК.
GitHub CCMiner: https://github.com/tpruvot/ccminer
Claymore v15.0: Claymore Dual v15.0 (AMD & Nvidia) — Скачать и Настроить для Windows
Claymore v14.7: Claymore Dual v14.7 AMD NVIDIA GPU Miner (Скачать и Настроить)
Then you need to create a .bat file, the CCMiner configuration file, which is saved with a .bat extension:
Create a text file in Notepad and enter the following information:
ccminer-x64 --algo = skein -o stratum + tcp: //eu.miningfield.com: 3398 -u username.worker -p yourpassword
Save the file in the same folder as the software, with a .bat extension (change "save as" from txt to all files).
Then change the URL to any of those displayed in dgb.miningfield.com (in our case). Example:
«url»: «stratum+tcp://us.miningfield.com:3394»
Replace "user" with the name in the account in step 1 and "pass." with the password of the mining pool account.
"url" : "stratum+tcp://us.miningfield.com:3394",
"user" : "username.worker",
"pass" : "mypassword"
Open the .bat file you created, which will run the CCminer app, and if all is well, MH/S and blocks will appear. One of the best things about Digibyte mining is that you can keep using your PC while the miner is running, because it doesn't slow down the device.
List of popular DGB mining pools
Choosing a pool is not an easy task. Especially for non-top, but promising ktrypto coins. This also applies to digihash token. The coin has its official digihash mining pool, but it is not the only one. Some well-known platforms offer miners to mine coins based on their platforms:
P2pool;
Php-mpos;
Other;
MmcFE;
Other.
When choosing a pool, a miner should pay attention to its technical characteristics and to the capabilities of his equipment, because different platforms have different requirements to the user's resource capacity. In order to avoid losing money on electricity bills or equipment purchases, experts recommend to make at least a schematic business plan for mining crypto. You can calculate the efficiency of mining with the help of the cryptocurrency yield calculator.
DGB mining. Mining software, settings
In order to start mining a useful crypto resource, you need to go through several important, but not difficult steps:
Download the driver (software for mining) on your equipment, unpack the archive in a separate folder. The safest way is to download the program from the official website.
If there is no wallet, it must be downloaded and installed. You will need it to deposit/withdraw altcoins. And its address will be needed to register a user in the pool.
Run the miner (mining software). Open the bat file, right-click and choose edit notepad. In the opened line, we write the algorithm, the pool address, the port number, as well as the password and the name of the vorker, which the user receives when registering in the pool. Save the changes.
Start the program (double-click)
If each of the steps is completed correctly, token mining will start the moment the program is launched. If something went wrong, the user can contact the 24-hour technical support service. According to online reviews, the specialists of most pools working with dgb quickly come to the user's aid and help him understand the settings.
DGB developers are interested in popularizing the product. Therefore, in order to attract more and more miners, they offer their own software for any type of equipment and provide links to the most reliable software from third-party companies.
Digibyte mining. Algorithms, hardware, efficiency
Solo mining is not profitable due to the high cost of equipment. In 2021, efficient mining is possible only in a group with other miners, who cooperate in pools, summing up the computing power of each participant and sharing the energy costs. Choose a pool for mining dgb, taking into account the algorithms on which this crypto coin works and the technical characrystistics of the mining equipment. Each algorithm has its own requirements to the hardware vorkera. There are five algorithms in total.
It is possible to effectively mine on all kinds of devices (asics, video cards, processors). In this case, everyone has a chance for good mining, without reference to the equipment, as long as it takes into account the requirements of the chosen algorithm. Each of the algorithms accounts for about 20% of block disclosure.
Digibyte DGB mining algorithm comparison table
| | |
| --- | --- |
| SHA-256 | The algorithm requires the equipment to have a high computing speed, but not an exorbitant amount of memory. High profitability of mining is possible only when using asics with high performance. |
| Scrypt | The main load is on the amount of memory of the equipment. Mining is effective on ASIC devices |
| Skein | GPUs |
| Qubit | CPUs |
| Groestl | GPUs+CPUs |
DGB is not a crypto for market speculation. Thanks to the strategy of its creators, this digital coin is stable in value. Its purpose is to conduct fast and secure transactions between individuals, buyers and sellers, and business partners.
Pros and cons of cryptocurrency. DGB Perspectives
This digital currency is also safe to keep money in, it is good for long-term investments.
DGB advantages:
Stable rate on the cryptocurrency market.
Sophisticated ecosystem (large selection of software, strong tech support).
Low Valatility.
The dependence of the exchange rate on fiat money, not on the manipulation of big players or the mood of Ilon Musk. For example, in early March 2021, Musk announced that his electric cars could be bought with cryptocurrency. Bitcoin skyrocketed in value as a result. in May he changed his mind loudly (he spoke out in the media) and bitcoin fell 10%. Musk tweets a funny meme about himself and the Dogecoin cryptocurrency and it goes up 58%. The creators of DGB secured their product against such spikes caused by random events.
It's easy to mine.
It's safe to store money, to mine. The platform uses advanced security systems.
DGB is promoted and optimized by an excellent team. They think through every step they take. Therefore, the currency has good prospects to establish itself on the crypto market as a popular, and most importantly, reliable means of payment, to reach the top in the near future.
DGB Disadvantages:
Low volatility (stable rate);
Large issue (more than two dozen billion coins issued)
Currency is not suitable for instant profits on the cryptocurrency exchange, for short-term investments.
To summarize. DigiByte cryptocurrency is a digital financial asset, which is reliably protected from hacking, theft, changes in transaction data. The young cryptocurrency for 2021 has shown itself as a full-fledged means of payment when paying for goods, services on the Internet. Digibytes is excellent for storing and earning money (mining). It is profitable to invest in the project.
---
Read more articles about cryptocurrencies and mining at CRYPTO-MINING.BLOG.

If you like reading articles like this and want to support me as an author, then subscribe to our Telegram channel @cryptomineg (https:// t.me/cryptomineg)
---