NBMiner v39.0: up to +70% max ETH mining hash rate on NVIDIA (Window/Linux)
NBMiner is a closed-source GPU miner for Nvidia CUDA and now AMD, which is available for both Windows and Linux operating systems. NBMiner GPU-miner for ETH, CFX, RVN, GRIN, BEAM, AE, BTM, SERO, HNS, BFC and many other popular cryptocurrencies.
Changes and new features in NBMiner v39.0
feature: ethash – New LHR mode for ETH mining on RTX 30 series LHR GPUs, supports Windows & Linux, allows ~70% of maximum unlocked hashrate.
This mode can be configured with the -lhr argument, now only works for ethash.
-lhr defaults to 0, which means that even if -lhr is not set, LHR mode with -lhr 68 will be applied to LHR GPUs if certain GPUs are detected.
Configure LHR mode by setting -lhr <value>, a certain value will tell the miner to try to achieve value a percentage of the maximum unlocker hashrate, for example. -lhr 68 would expect to get a 68% hashrate for the same GPU model without LHR.
A larger value of -lhr will result in a higher hash rate, but will have a higher probability of getting into a lock state, resulting in a much lower hash rate.
A good starting value for tuning is 68, which has been tested as stable on most hardware configurations.
-lhr value can be set for each GPU using a comma separated list, -lhr 65,68,0,-1 where -1 means disable LHR mode.
Note to the release
fails to unlock LHR hashrate under windows driver 471.11
---
Miner Features
Support for Windows and Linux.
Support for backing up the mining pool configuration.
Supports SSL connection to mining pools.
Dev Fee:

ethash etchash 1%
cuckatoo & cuckatoo32 & cuckoo_ae 2%
progpow_sero 2%
kawpow 2%
beamv3 2%
octopus 3%
ergo 2%
Requirements.
NVIDIA Driver version: >= 384.
Nvidia GPU Specific Requirements:
Set up NBMiner
For the fastest possible start will be enough:
Download archive with the program
Unzip to any convenient location
Change the wallet to your .bat file extension
The archive with the program contains ready-made examples for Grin, Ethereum + Bytom, a configuration file, as well as instructions in Russian.
open_web_monitor – html file to monitor the program through the web interface.
Examples of Quick Starts
Edit the ".bat" file
Change the username from the pool.
The program is started by double-clicking the file with the extension .bat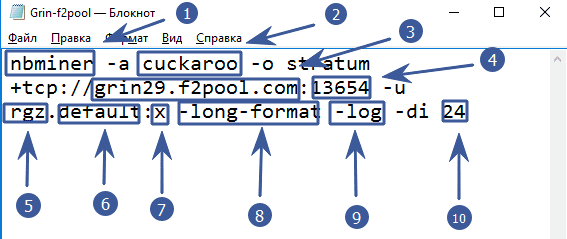 nbminer Name of the program to run.
-a cuckarood – specify the algorithm of the mined coin.
– o stratum + tcp: //grin29.f2pool.com after building -o stratum + tcp: // specify pool address.
: 13654 put a colon and specify the pool port
-u rgz – after the -u key, specify the wallet address or login in the pool. Wallet can be opened on any convenient and safe exchange, or put the official wallet from the coin.
. default – put a dot and specify the farm name (any)
: x put a colon and a password (usually not required, so x)
-long-format – display the program log
-log creates a log file named log_.txt.
-di 24 indicate the intensity of the program (for dual-mining)
Examples of use NBMiner
ETH
ethermine: nbminer -a ethash -o ethproxy+tcp://asia1.ethermine.org:4444 -u 0x12343bdgf.worker
sparkpool: nbminer -a ethash -o ethproxy+tcp://cn.sparkpool.com:3333 -u 0x12343bdgf.worker
f2pool: nbminer -a ethash -o ethproxy+tcp://eth.f2pool.com:8008 -u 0x12343bdgf.worker
beepool: nbminer -a ethash -o ethproxy+tcp://eth-pool.beepool.org:9530 -u 0x12343bdgf.worker
nanopool: nbminer -a ethash -o ethproxy+tcp://eth-asia1.nanopool.org:9999 -u 0x12343bdgf.worker
herominers: nbminer -a ethash -o ethproxy+tcp://ethereum.herominers.com:10201 -u 0x12343bdgf.worker
nicehash: nbminer -a ethash -o nicehash+tcp://daggerhashimoto.eu.nicehash.com:3353 -u btc_address.worker
miningpoolhub: nbminer -a ethash -o nicehash+tcp://asia.ethash-hub.miningpoolhub.com:20535 -u username.worker
ETH+ZIL:
ezil: nbminer -a ethash -o stratum+tcp://cn.ezil.me:5555 -u ETH_WALLET.ZIL_WALLET.WORKER –enable-dag-cache
shardpool: nbminer -a ethash -o stratum+tcp://ch1-zil.shardpool.io:3333 -u ETH_WALLET.WORKER -p ZIL_WALLET@cn.sparkpool.com:3333 -enable-dag-cache
Grin32
goblinpool: nbminer -a cuckatoo32 -o stratum+tcp://grin32.goblinpool.com:3344 -u username.worker:passwd
f2pool: nbminer -a cuckatoo32 -o stratum+tcp://grin32.f2pool.com:13654 -u username.worker:passwd
herominers: nbminer -a cuckatoo32 -o stratum+tcp://grin.herominers.com:10301 -u username.worker:passwd
nicehash: nbminer -a cuckatoo32 -o nicehash+tcp://grincuckatoo32.hk.nicehash.com:3383 -u btc_address.worker
AE
f2pool: nbminer -a cuckoo_ae -o stratum+tcp://ae.f2pool.com:7898 -u ak_xxxxxxx.worker:passwd
beepool: nbminer -a cuckoo_ae -o stratum+tcp://ae-pool.beepool.org:9505 -u ak_xxxx.worker:passwd
nicehash: nbminer -a cuckoo_ae -o nicehash+tcp://cuckoocycle.eu.nicehash.com:3376 -u btc_address.test
SERO
beepool: nbminer -a progpow_sero -o stratum+tcp://sero-pool.beepool.org:9515 -u wallet_address.worker:pswd
f2pool: nbminer -a progpow_sero -o stratum+tcp//sero.f2pool.com:4200 -u wallet_address.worker:pswd
RVN
beepool: nbminer -a kawpow -o stratum+tcp://rvn-pool.beepool.org:9531 -u wallet.worker:passwd
f2pool: nbminer -a kawpow -o stratum+tcp://raven.f2pool.com:3636 -u wallet.worker:passwd
minermore: nbminer -a kawpow -o stratum+tcp://us.rvn.minermore.com:4501 -u wallet.worker:paswd
bsod: nbminer -a kawpow -o stratum+tcp://pool.bsod.pw:2640 -u wallet.worker:passwd
woolypooly: nbminer -a kawpow -o stratum+tcp://rvn.woolypooly.com:55555 -u wallet.worker:passwd
BEAM
sparkpool: nbminer -a beamv3 -o stratum+ssl://beam.sparkpool.com:2222 -u wallet.worker:passwd
beepool: nbminer -a beamv3 -o stratum+ssl://beam-pool.beepool.org:9507 -u wallet.worker:passwd
leafpool: nbminer -a beamv3 -o stratum+ssl://beam-eu.leafpool.com:3333 -u wallet.worker:passwd
herominers: nbminer -a beamv3 -o stratum+ssl://beam.herominers.com:10231 -u wallet.worker:passwd
nicehash: nbminer -a beamv3 -o stratum+tcp://beamv3.eu.nicehash.com:3387 -u btc_address.worker
CONFLUX
beepool: nbminer -a octopus -o stratum+tcp://cfx-pool.beepool.org:9555 -u wallet.worker
poolflare: nbminer -a octopus -o stratum+tcp://cfx.ss.poolflare.com:3366 -u wallet.worker
f2pool: nbminer -a octopus -o stratum+tcp://cfx.f2pool.com:6800 -u username.worker
woolypooly: nbminer -a octopus -o stratum+tcp://cfx.woolypooly.com:3094 -u wallet.worker
nicehash: nbminer -a octopus -o stratum+tcp://octopus.eu.nicehash.com:3389 -u btc_address.worker
ERGO
herominers: nbminer -a ergo -o stratum+tcp://ergo.herominers.com:10250 -u wallet.worker
woolypooly: nbminer -a ergo -o stratum+tcp://erg.woolypooly.com:3100 -u wallet.worker
nanopool: nbminer -a ergo -o stratum+tcp://ergo-eu1.nanopool.org:11111 -u wallet.worker
666pool: nbminer -a ergo -o stratum+tcp://ergo.666pool.cn:9556 -u wallet.worker
nicehash: nbminer -a ergo -o stratum+tcp://autolykos.eu-west.nicehash.com:3390 -u wallet.worker