CFX Mining. Conflux – setup, wallet, pool, miner batch file, Windows and HiveOS.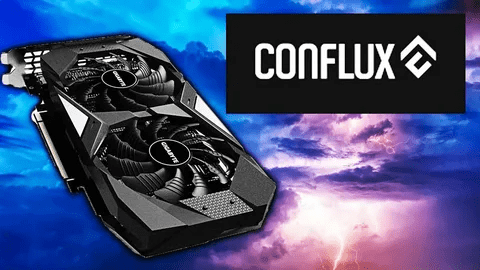 The Conflux project is a blockchain that connects Asian and Western economic communities. Built to secure the flow of data and assets across borders through protocols and applications. Today we will analyze whether this project is worth your attention and money.
What is Conflux?

Conflux originated in the laboratory of Turing Award winner Dr. Andrew Yao. Consensus mechanism: Tree-Graph which optimizes security, scalability and decentralization.
In 2018, the Conflux Foundation was born and a regulatory fundraiser was completed to build an open infrastructure based on this revolutionary consensus mechanism.
Conflux, established as the only state-approved public blockchain without permission. Promotes education and research in blockchain development through the Tree-Graph Research Institute. Created in partnership with the government of Shanghai and Key Laboratory of Blockchain Infrastructure and Applications with the government.
Conflux Network is a scalable and decentralized blockchain that aims to develop high throughput. The Conflux Network consensus algorithm works with a special directed acyclic graph (DAG) structure called a Tree-Graph.
Unlike Ethereum, which only accepts transactions to its ledger in one chain, Tree-Graph records and processes transactions in all parallel blocks. CFX is a native Conflux Network utility token that is used for network consensus, ecosystem rewards, governance, and staking.
Conflux Wallet
Wallet for CFX coins browser-based, as an application
So far, only Chrome, Firefox and Edge are supported.
If you're having trouble installing Google Chrome, try turning on VPN or using Tor Browser.
Click on Create and come up with a password, then create a new secret phrase.
Take a picture of it with your phone, because if you take a screenshot or click anywhere else, the wallet will close and you will have to do everything all over again. Next, the wallet extension will ask you to click on the words of the passphrase in the correct order.
That's it, the wallet is created.
Copy and save its address for future reference.
Mining Conflux in HiveOS.
Many miners have long gone from Windows to Linux, here the hash rate and stability are slightly higher … HiveOS is the most popular and convenient operating system for mining, management is done using a WEB interface or a mobile application. The drivers themselves are pulled up to the video cards, and with each new update, new versions of the miners are released.
You need to start by following the link and register on the HiveOS website, and then download the current version of the distribution.
By specifying the promotional code miningfaq during registration, you will receive $10 to the account of one farm, which can be used for billing.
The image is written to a USB flash drive or any other drive using the Balena Etcher program.
Go to your HiveOS personal account, where you can start setting up.
The first step is to add our CFX Conflux wallet to the HiveOS system. Go to the wallet section, find the coin in the list.
Now we need to convert Conflux wallet for HiveOS. To do this, go to confluxscan.io in Tool – Address Format Conversion and enter our address.
Copy the top one and paste it into HiveOS.
Save and go to the flight sheets section. We select a coin and a wallet in the first two cells.
in the third we find and select the pool, in our case it is nanopool.
put a checkbox near the EU server.
Next, select the T-Rex miner
Or NBMiner.
To start mining, go to the farm, then to your worker, to the flight sheets section and click on the rocket.
Conflux mining on Windows on WoolyPooly.com pool
Create your wallet address. You can: * use official wallet; * use an exchange wallet, for example Coinex (no KYC required); * mine on pool account (starts with WP).
Attention! Do not mine directly on Binance! They use their blockchain address, otherwise you will lose funds.
2. Download the CFX miner: * T-rex (Nvidia) recommended by Wooly * Nanominer (Nvidia + AMD) * Nbminer (Nvidia + AMD) * Bminer (Nvidia)
3. Unpack the miner.
4. Edit the .bat file (choose with the name Conflux), specify in it your Conflux address or pool account address (optionally you can specify the name of the rig) and the address of the WoolyPooly stratum:
For miners from Europe, CIS and Russia:
pool.eu.woolypooly.com:3094if you want to mine on a shared pool with other miners; pool.eu.woolypooly.com:3095if you want to dig solo.
5. Run the Conflux .bat file.
An example of a T-rex batch file:
t-rex.exe -a octopus -o stratum+tcp://pool.eu.woolypooly.com:3094 -u cfx:aanw850uaj9thkwy3znsxwvrcbxy9u3kwjng5e6p4n -p x -w rig0
An example of a NBMiner batch file:
nbminer.exe --url pool.eu.woolypooly.com:3094 --user 0x172f6ed0023ef3a654cd56e9ca2d10674fc32992.rig1 --algo octopus
Config example Nanominer:
wallet = 0x172f6ed0023ef3a654cd56e9ca2d10674fc32992
coin = CFX
rigName = wooly
pool1 = pool.eu.woolypooly.com:3094
Bminer batch file example:
bminer -uri conflux://0x172f6ed0023ef3a654cd56e9ca2d10674fc32992@pool.eu.woolypooly.com:3094
6. Check your stats here https://woolypooly.com/en/coin /cfx with the wallet address.
7. Compare your hashrate with the data below
NVIDIA:
1060 6GB - 5 MH/s
1660 - 21 MH/s
1660S - 30 MH/s
1660ti - 30 MH/s
1070 - 7 MH/s
1070ti - 8 MH/s
1080 - 10 MH/s
1080ti - 14 MH/s
2060 - 37 MH/s
2060S - 42 MH/s
2070 - 47 MH/s
2070S - 52 MH/s
2080 - 52 MH/s
2080S - 57 MH/s
2080ti - 75 MH/s
3060 - 46 MH/s
3060 LHR - 44 MH/s
3060ti - 55 MH/s
3060ti LHR - 54 MH/s
3070 - 58 MH/s
3070 LHR - 58 MH/s
3070ti - 68 MH/s
3080 - 80 MH/s
3080 LHR - 80 MH/s
3080ti - 82 MH/s
3090 - 93 MH/s
Why should you mine Conflux on the WoolyPooly.com mining pool?
Ping from 5 to 60 ms for residents of the Russian Federation, Belarus, Ukraine.
Vardif – the ability to mine stably even on low-powered rigs.
Payout as soon as the min. Conclusion, Wooley doesn't keep your money.
Ability to set your own minimum payout threshold.
The PPLNS payment method is beneficial for the miner, not for the pool.
Fully self-written engine with non-standard solutions for the pool.
Support that tries to help, and does not put in place.
Conclusion
Today we took a look at the Conflux project. The scheme of his work, wallet, mining and much more. Of course, whether or not to invest in this coin is up to you. However, now, more than ever, mining will be profitable. But it is better not to miss these opportunities!
Good luck with your investment!
---
If you like to read such articles and want to support the author, then you can subscribe to our telegram channel and recommend us to your friends, this will help a lot to support our project! Telegram: CRYPTO WIKIES | Bitcoin & Altcoins Mining

Be the first to know all the news, read more about cryptocurrencies and mining at CRYPTO-MINING.BLOG.