The latest version of lolMiner 1.66 adds support for NEXA
---
lolMiner 1.66 is the latest version of the miner, offering many features that make mining easier than ever. With this release you get access to new algorithms, higher hash rates, greater efficiency, improved performance and most importantly – exclusive access to support for the NEXA algorithm to increase your mining power.
Take advantage of advanced NEXA mining technology with lolMiner 1.66 and enjoy its many features such as improved performance, better efficiency and higher hash rates to help you increase your income in no time. Upgrade to lolMiner 1.66 now and get exclusive access to NEXA algorithm support for more processing power!
The newly updated lolMiner 1.66 also introduced support for the nexapow algorithm used by the NEXA project, something we expected after the recent release of BzMiner v13.0.1, which mentioned that NEXA support was developed with the lolMiner developer.
To start mining NEXA, you need to create a wallet, you can download it in the official wallet Nexa Core Wallet.
And now the release of lolMiner 1.66 brings this along with a mention of an upcoming update to BzMiner to improve performance by about 20% and reduce development fees by 2%, the same thing we expect to see from this release in lolMiner.
Are you looking for the best NEXA GPU miner?
Look no further than lolMiner, which outperforms even the latest NEXA Rigel 1.3 miner!
lolMiner offers all the features of the NEXA Rigel 1.3 miner plus more. It provides higher hashrate, greater stability, and increased efficiency all in one package. In addition, the user-friendly interface makes setup and deployment quick and easy.
Improve your mining operations with lolMiner and get the most out of your GPUs. Enjoy improved hashrate, greater efficiency and reduced downtime, all while saving on costs associated with mining operations. Take advantage of lolMiner's superior performance today! Download now to start mining smarter and faster.
Prior to the release of lolMiner, NEXA's fastest miner was the new Rigel Nvidia GPU miner, so the question is, did lolMiner manage to surpass its performance and take a new first place? Well, the answer is that it managed to slightly outperform even the freshly updated Rigel 1.3.1 miner, which also brought in about 3-5% gains since the original release of 1.3.0. So the new lolMiner 1.66 is now a NEXA miner for Nvidia GPUs if you want the best mining performance for now. The hashrate that the new lolMiner offers for mining NEXA is slightly higher than that of the Rigel miner, and this is with the same 2% developer reward for both miners, and the next update of BzMiner should also provide a similar level of performance when it is updated. lolMiner's performance gain is about 5% on widely used Nvidia GPUs such as the RTX 3070, although some models such as the RTX 3070 Ti, RTX 3080 and RTX 3090 can show around the same level of performance as the latest version 1.3.1 miner Rigel!
lolMiner 1.66 – Latest changes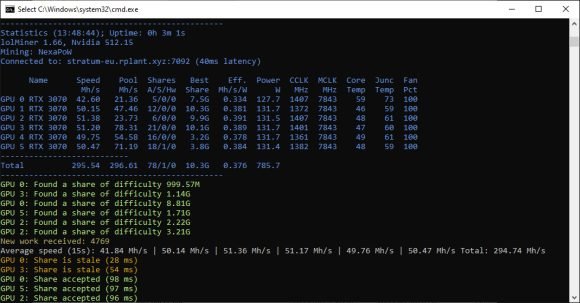 Added support for Nexa mining on Nvidia Pascal or newer generation GPUs (1). For mining, use –algo NEXA. The reward is 2%.
Note: The pool's supported protocol is the same as the protocol provided in the rplant pool. The pools tested with this version are in alphabetical order: acc-pool.pw, rplant.xyz, vipor.net and woolypooly.com. However, this list is not exclusive, and any other pool following this protocol should work.
Note 2: This code is a collaboration with Iedoc from BzMiner and is a revised version with about 20% more speed than the code released in BzMiner v13.0.1. An updated version of BzMiner, containing improvements to this core as well as the same board level, will be released soon.
The main emphasis in optimization was placed on Nvidia Ampere low- and mid-price range GPUs. The performance of other generations may vary, but will certainly improve in future versions.
LolMiner for NEXA mining
Make more money faster with lolMiner for NEXA mining on Nvidia GPUs! lolMiner is the perfect mining solution for Nvidia GPUs users who want to get the most out of their mining. This miner is specifically designed to support NEXA mining and is compatible with all major NEXA mining pools. With lolMiner, you can distribute your hash rate and increase your profits beyond the most popular pool!
Join the thousands of satisfied miners who use lolMiner to make more money faster than ever before. With lolMiner, you'll have access to exclusive features and a full suite of tools to help you maximize your ROI. Start making more money with lolMiner today!
Download lolMiner and start enjoying all the features right now!
---
If you like to read such articles and want to support the author, then you can subscribe to our telegram channel and recommend us to your friends, this will help a lot to support our project! Telegram: CRYPTO WIKIES | Bitcoin & Altcoins Mining

Be the first to know all the news, read more about cryptocurrencies and mining at CRYPTO-MINING.BLOG.